Preparation for buying on-line
Measure your child beforehand, using the measuring chart below
Allow for growth - when you're buying shirts, make sure you can fit two fingers inside the fastened collar
Buy a minimum of 3 Sweatshirts Primary School (1 wearing, 1 clean and 1 in the wash )
Buy 3 - 5 blouses or shirts, depending on how often you do the washing during the week
Order embroidered name tapes well in advance, so you'll have time to sew them on before the beginning of term
Please don't leave things till the last minute we may run out.
Good quality school clothes will give you years of wear, so buy for value, don't economise on quality
Ask for advice. Our expert staff will be happy to talk to you about a child's individual needs
Measuring tips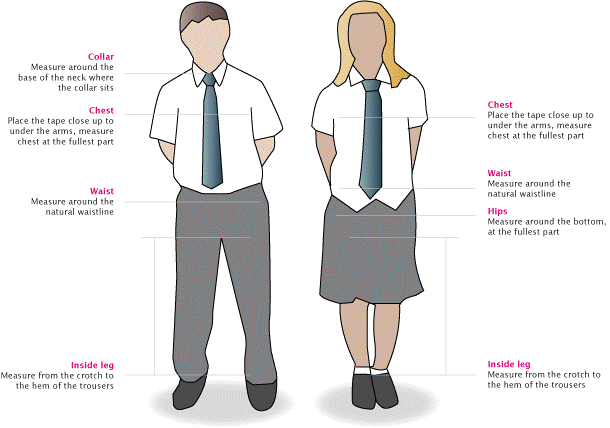 Collar: Measure around base of neck, inserting two fingers between neck and tape to allow growth. Chest: Position tape close to underarms, measure chest at fullest point. Dress and tunic length: Measure from nape of neck to length required. Waist: Measure around the natural waistline. Skirt length: Measure from middle of waist to length required. Inside leg: Measure with shoes on, to approximately 5cm above the ground.
Some garments come is duel sizes, mostly Sports clothing.
Junior Trousers are in ages while Senior Trousers are waist and inside leg.
Skirts are in waist size and skirt length. Skirt should be no more the 2 inches above the knee. The longer you buy them the longer they will last.
Girls have a habit of rolling up their skirts this puts a strain on the zip which caused it to fail, this is not covered under the guarantee.
All our garments are guaranteed for 4 months; however they should last for 2 years if treated correctly
Size Guide This guide is the average size garment you need for the child. However Children come in all shapes and sizes so use this as a guide only
Boys

Girls

Age

Chest Size

Collar Size

Chest Size

Waist Size

3

22

-

22

20

4

22/24

-

22/24

20

5

24/26

11

24/26

20

6

26/28

11H

26/28

22

7

28/30

12

28/30

22

8

30

12

30

24

9

32

12H

32

24

10

32

12H

32

26

11

34

13/13H

34

26

12

34/36

13H

34/36

26/28

13

36 (XS)

14

36 (XS)

26/28

14

36/38 (XS/S)

15

36/38 (XS/S)

28/30

15

38/40 (S/M)

15H/16

38/40 (S/M)

28/30
.
Garment Care
Please always follow the manufacturer's washing instructions on the garment label.
We recommend washing garments inside out.

All of our garments are easy care and need little if any ironing.

If ironing is required please ensure the temperature is set correctly as this and tumble drying are the main reasons that garments are returned.
Allowing garments to dry naturally is always best and tumble drying should only be done strictly following the temperature guideline on the garment care label on LOW HEAT
Pleated garments should never be tumble dried.
The use of fabric conditioner should be avoided as this can interfere with the easy care coating on some garments and can weaken fabrics contributing to pilling and miss-shaping.
Wash at the correct temperature as given on the care label
Pilling on garments
Having talked to our manufacturers and suppliers, we have come to the conclusion that it is almost impossible to guarantee a pill free garment. All fabrics pill to some extent, with the weaker fibres the pills fall off, but with stronger fibres the pill remains attached to the fabric.
Pilling occurs due to friction when wearing or washing of the garment, when groups of fibres on the surface of the fabric become tangled together in a tiny ball – a pill. To help prevent pilling, we recommend that you should wash the garment inside out, avoid the use of fabric conditioner and line dry them if possible. Always follow the washing instructions that will be available on the garment label. If removed they do not return.